In everyday office life, we receive countless emails every day. Whether newsletters or information, customer inquiries and messages from colleagues. On average, we receive over 40 emails per day. In other words, e-mails determine a large part of our everyday working lives and are still a much-used means of communication. Often, incoming e-mails contain important information that should not only be made available to the direct recipient. The bad habit of making the distribution list as large as possible is often the only variant of "sharing". Thereby, information and especially file attachments are often included, which should possibly also be made available to team members in the background.
Another aspect is mail archiving. Once moved to the archive, the information is gone – and must be painstakingly retrieved when needed – if you still know which email contained the important PDF you need.
Internal processes could remedy this, e.g. one could encourage all project participants to always file file attachments in a project-related folder in SharePoint. To do this, the attachments are simply extracted from the mail, stored locally and then uploaded to SharePoint again. Sounds simple, doesn't it? No, this is an imposition and quickly this process is simply ignored and chaos returns.
Handling the inbox has never been easier - thanks to artificial intelligence.
What if we told you that this could now be drastically simplified? Our Outlook add-in Mailissa Transfer currently gets an artificial intelligence. As part of a pilot project with one of our customers, we are currently developing a fully automated classification and filing of incoming and outgoing e-mails using artificial intelligence.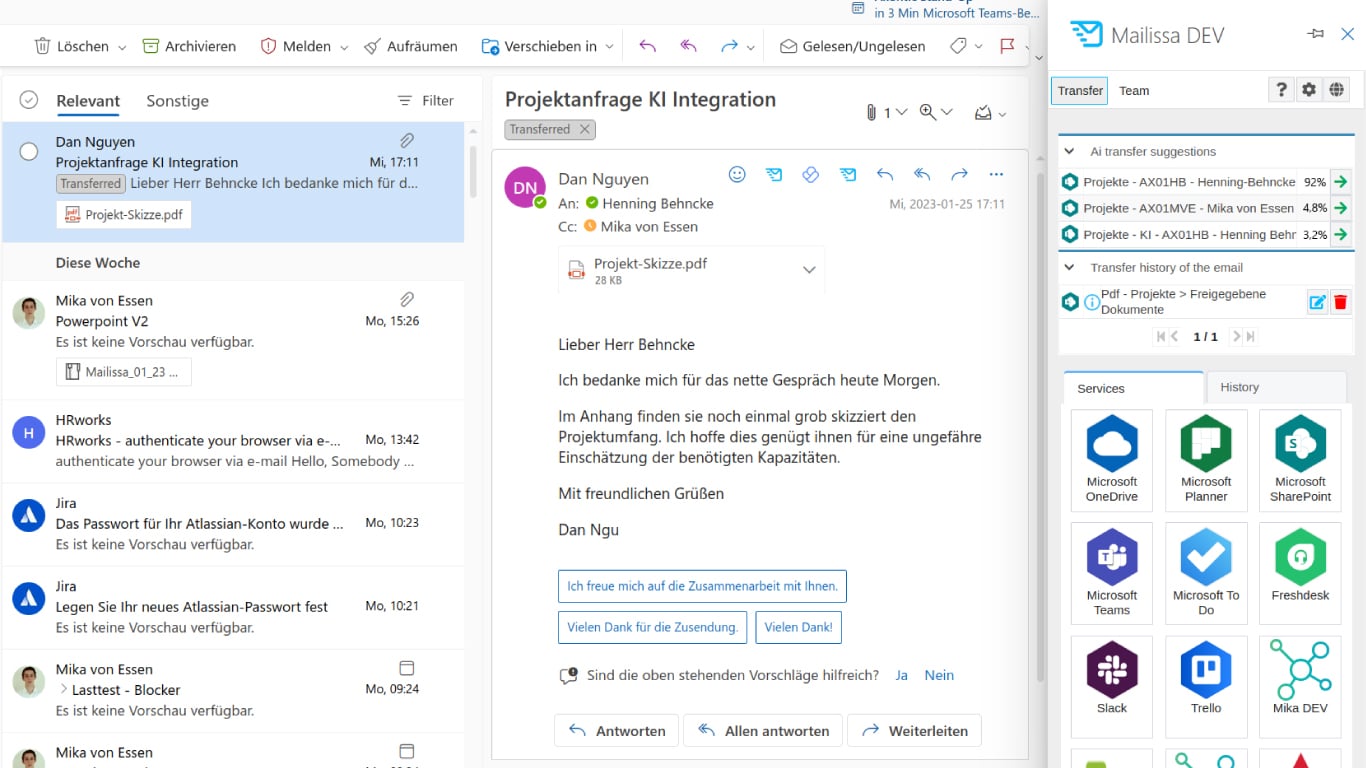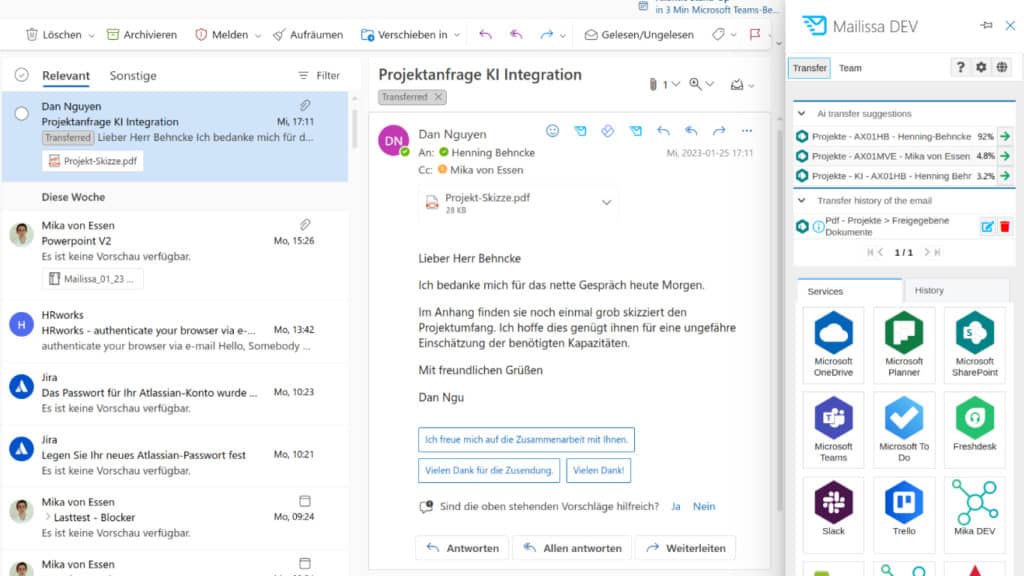 The AI model used by Mailissa classifies e-mails, for example, according to subject matter (e.g. delivery date inquiry, complaint, project inquiry, etc.) and stores the e-mails and file attachments in the desired target systems using API interfaces.
After the AI has classified an email, you will see the suggestions for filing in the Mailissa add-in with the corresponding probabilities. For automated filing, a threshold value can be set in the central defaults. (for example, over 90 %) can be defined. If a probability is greater than 90%, direct "dark processing" takes place without personal intervention. In Microsoft Outlook you can view the filing location, check it and correct it with a few clicks if necessary. In this way, the artificial intelligence learns even with "wrong" filing and becomes more accurate with each use. With each manual filing of an email, the artificial intelligence is further sharpened and future suggestions become more accurate.
What is Mailissa Transfer actually?
With Mailissa Transfer, you can transfer emails and attachments directly from Microsoft Outlook to any enterprise application. Ohne Copy & Paste, lästiges Suchen und Informationsverlust. And that in the client, browser and mobile.